We, at BredaPT, just received the brand new Olympic Barbell from Pure2Improve which was recently added to their assortment, and we cannot wait to test it out!
---
We always try to give our clients the best experience possible. We test a lot of products and can say that a great deal of barbells have passed through our hands. When we unboxed the product, we were happily surprised by its striking design. We believe quality is of the utmost importance, but a design that screams quality makes us quite happy too.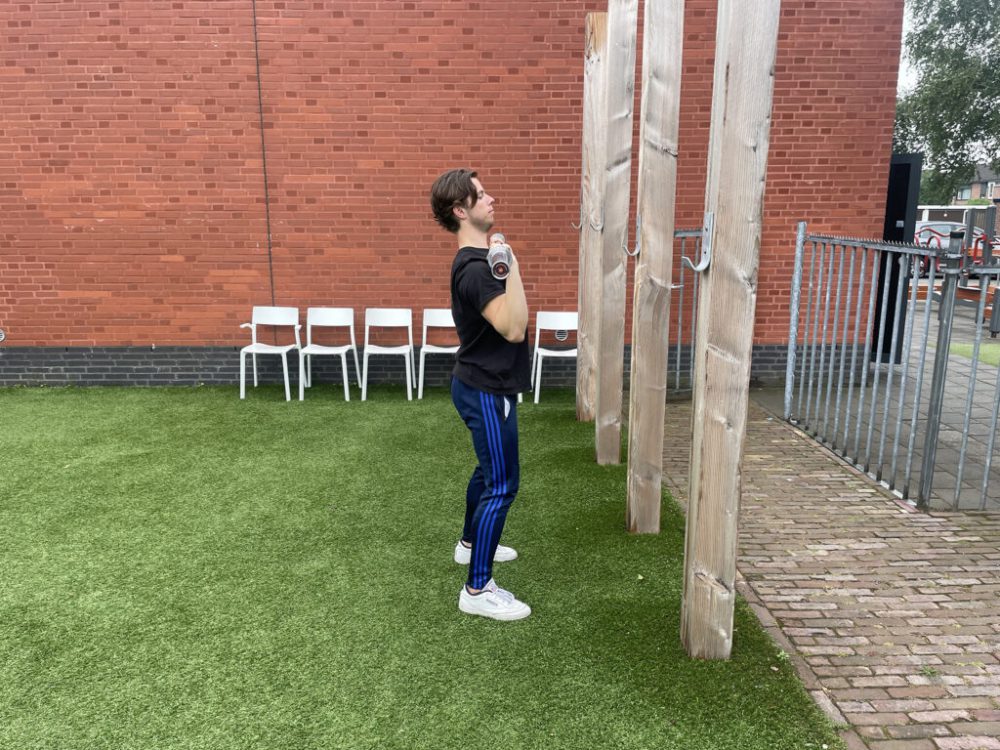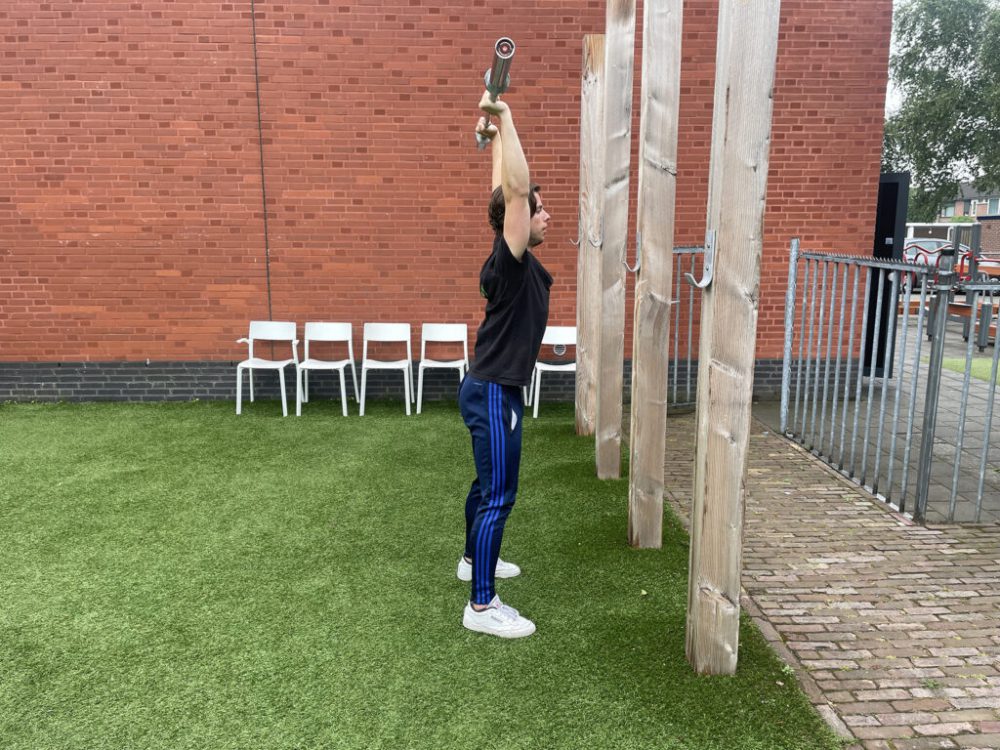 ---
QUALITY & SPECIFICATIONS
So let's talk about the quality of the barbell. The brushed metal coating looks cool and robust, while the fine grip and the logo applied on both ends offer the perfect finishing touches. The bearings with which the barbell is equipped ensure that the barbell rotates properly, smoothly and silently during the training. Finally, the 50mm ends rotate separately from the bar which minimises the risk of injury.
The barbell is 220 cm (86,6 inch) long and weighs 20 kg (45 lbs) while the sleeve has a diameter of 28 mm, is made for 50 mm plates and can support a maximum weight of 350 kg; in other words, the product meets all the requirements to fit the description of an Olympic barbell. The barbell can be used for Olympic weight lifting, power lifting and bodybuilding as well as other weight lifting sports.
---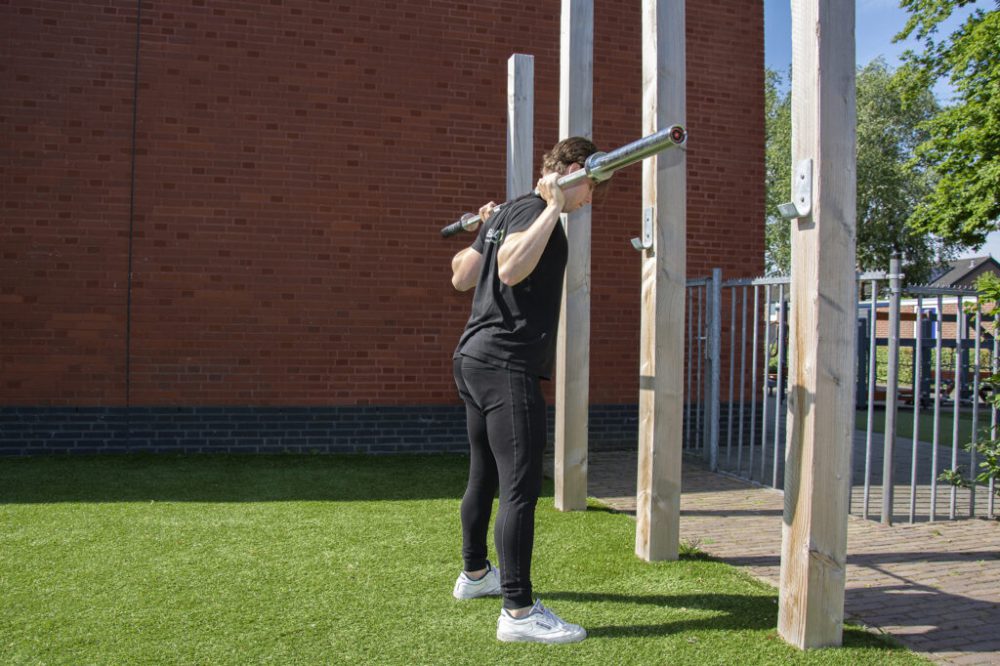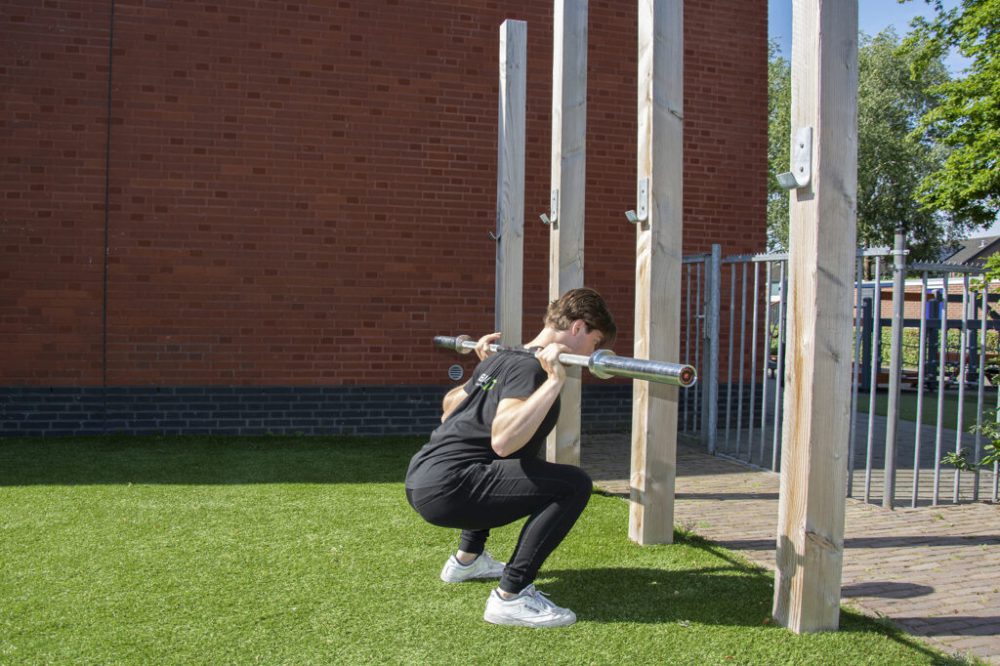 ---
P2I OLYMPIC BARBELL – BREDAPT REVIEW
After having extensively tested the Olympic Barbell, we are happy to say that we are very satisfied with this new Pure2Improve product! So, if you are looking for an Olympic Barbell for your professional or home gym, this product is definitely  one to be reckoned on.
We wish you a lot of fun with your workout, and in case you need some training inspiration, check out our favourite exercises on the images in this post!
---
USE OUR OLYMPIC BARBELL AT HOME
Looking for more ways to fitness at Home? Check out our Youtube channel for all kinds of ways to improve:
Click here to view our Pure 2Improve videos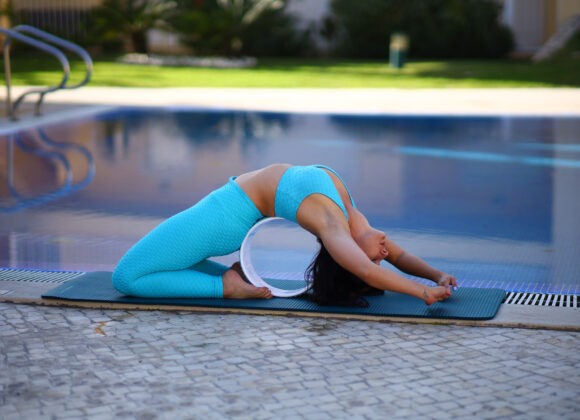 Yoga has several benefits for everyday life. Flexibility, better mind-body connection, increased strengths and confidence are just a few of them. If you have a stressful life and you find the time to stop and practice yoga you will see the long-term benefits. Yoga can be practiced anywhere, and many people prefer to start with yoga as a morning routine at home. So we'll help you with 5 steps to start practicing yoga at home.
SIMPLE STEPS TO START PRACTICING YOGA AT HOME
1. FIND A PRACTICE AREA WHERE YOU FEEL RELAXED AND COMFORTABLE
Find a peaceful place and put on some relaxing music if you like. First, create a corner where no one can disturb you during the exercise.
---
2. GRAB A MAT AND YOGA BLOCK
One of the best things about yoga is: it doesn't require a lot of equipment. However, a yoga mat and yoga block are very useful from the beginning.
---
3. BOOK A PRIVATE YOGA SESSION ONLINE OR CHECK VIDEOS ON YOUTUBE
A private online lesson is the best way to get more motivation for practice and to make sure you know how to do each pose correctly. However, you can also follow YouTube videos with yoga instructions if you prefer. If you do this, pay extra attention to your poses yourself.
---
4. SET GOALS AND MAKE AN EVERYDAY PRACTICE ROUTINE
Commit your schedule and stick to it. Creating an effective routine comes with commitment. Block 15-20 minutes in your schedule every morning or evening. That's all you need to start practicing yoga at home.
---
5. START SIMPLE POSES AND FOLLOW YOUR BODY
Choosing different types of yoga can be challenging for beginners. Starting with simple and short exercises is very important to avoid any injuries. If you experience any pain during the poses, that's a sign to stop. Only do what's comfortable and safe.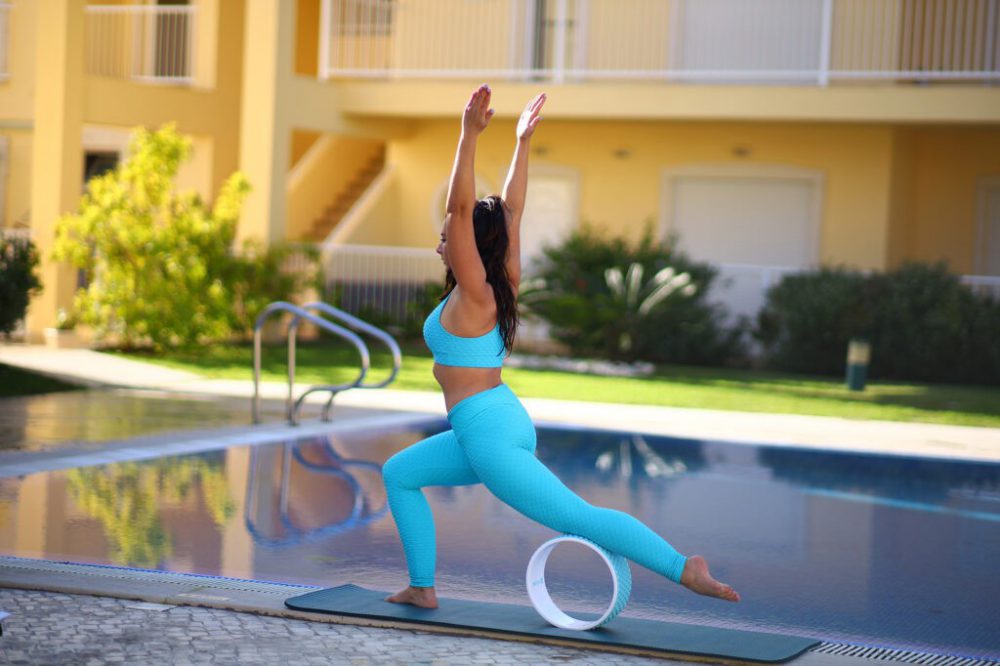 If you are ready to take the next step in your yoga practice, then this next section is for you.
---
BEGINNER YOGA EXERCISES WITH YOGA WHEEL
Practicing yoga every day for 15-20 minutes in your own home can make a big difference. Start your day with the perfect vibe and mood. Breathing exercises will guide you to be in the present moment and release any stress from your life.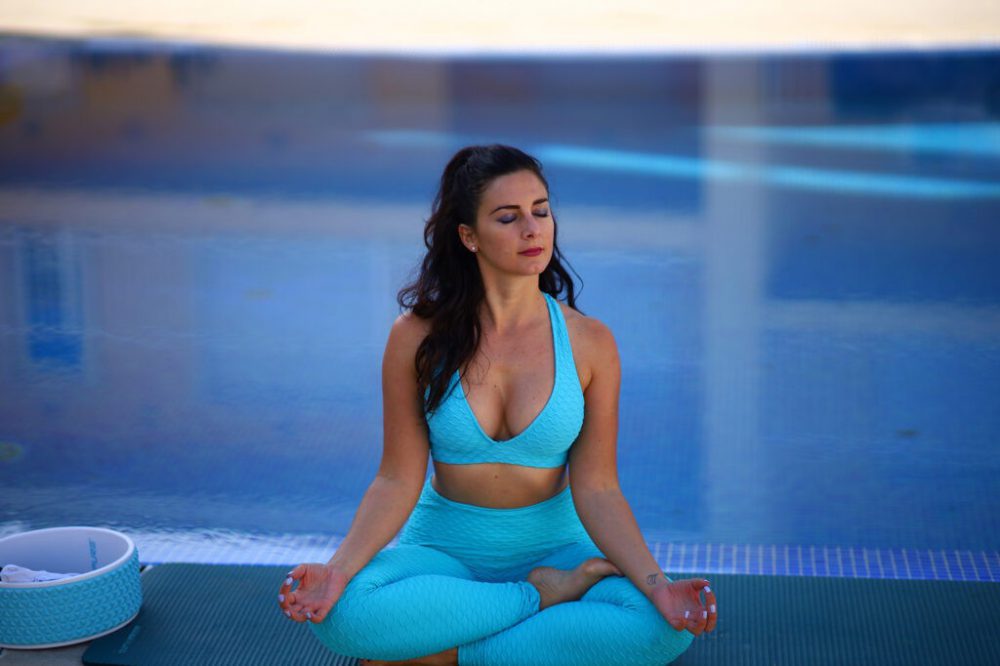 Using the yoga wheel for beginners can be a challenging but effective way to improve your strength and balance. Yoga wheels are beneficial in many ways. They help you with an advanced stretch for your body and help to step into more complex yoga poses. The exercise with the wheel requires more concentration and focus, so it helps you to achieve your next level in yoga.
If you have back problems or other injuries, you need to be gentle and listen to your body when you try each position. If you begin to feel any pain it's a sign to come out of the pose. Always listen to your body.
The following exercises are great for beginners to start to use the yoga wheel and get more confident.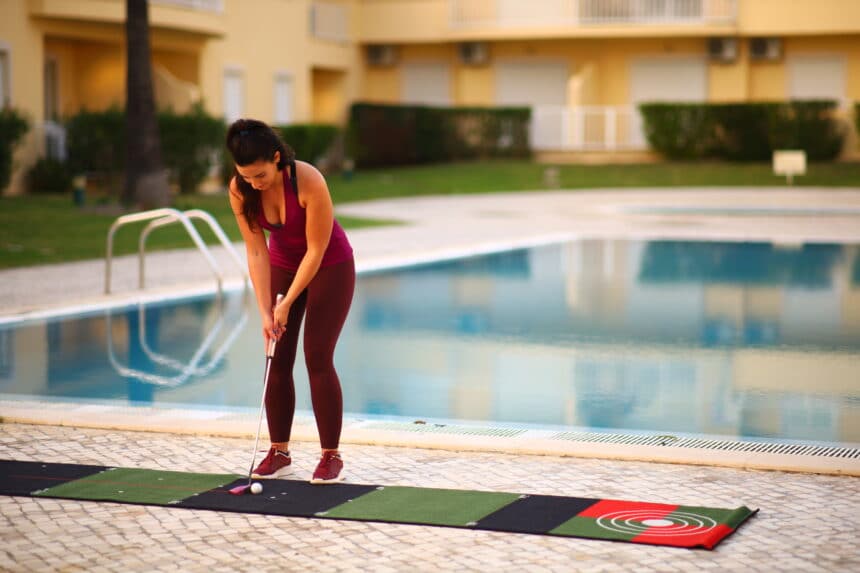 Golf is a game where practicing every day is necessary to play consistently. There are many ways to practice and improve your golf game at your home too. The off-season is the right time to improve your game in different areas. The short game is the easiest part to improve indoors but there are other options to try to get better overall. Let us show you our top 5 ways to improve your golf game at home.
---
INDOOR GOLF PUTTING
One of the best ways to practice golf at home is to work on putting. You only need a putting mat and are ready to work on distance and control of the putter face. There are many types of rugs and mats of different lengths and sizes available in the market. Consistency is the key, if you practice every day and set up a routine you will see the result on your score.
---
GOLF CHIPPING DRILLS TO DO AT HOME
One of the most important areas of the game you can practice at home is chipping. A simple target, chipping nets can be useful to check and improve your aiming and distance control. There are many drills to practice for example towel drill and focus on your technique. Most golfers can improve their scores by improving their short games very fast.
---
PRACTICE SWING EFFECTIVELY
One of the most effective ways to practice your tempo is a speed control tool. It is a helpful exercise to do at home if you have enough space for it. This training tool is an excellent way to warm up for golf or just get the right tempo before or during the round. Practicing golf at home can be effective if you do it every day with the right equipment. Nowadays many golf pros provide online lessons and help to achieve swing goals from home.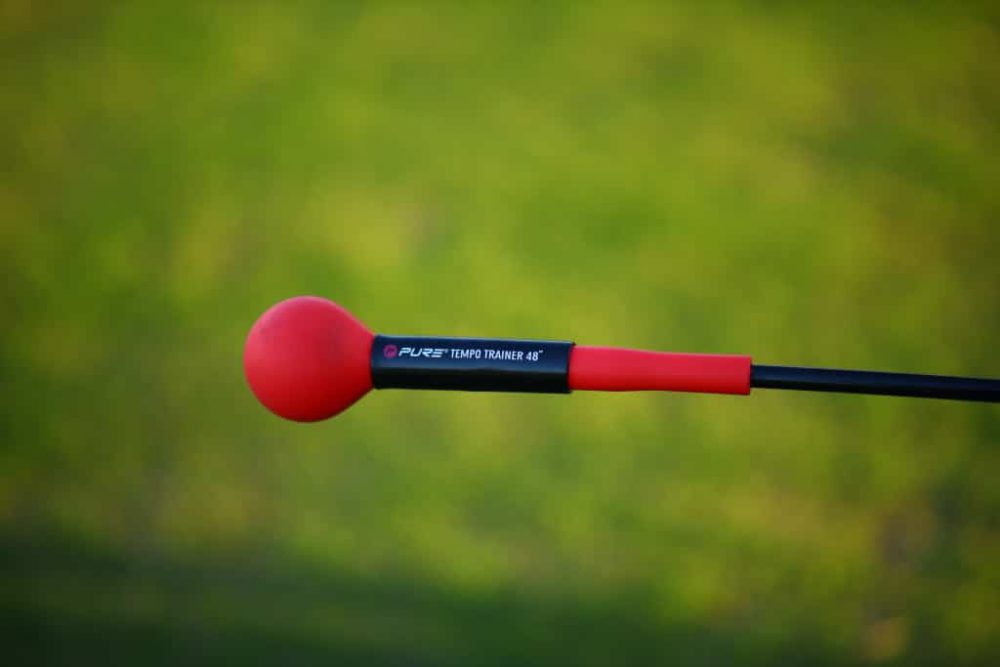 ---
WORK ON YOUR PHYSICAL PERFORMANCE
Some people think golf does not require much physical activity, but it is not true. An average golfer burns 350 calories per hour on the golf course when walking. The better your physical performance is the easier to play good golf. If your general strengths are not at a good level, you have a higher risk for injuries. Proper warm-up routines and strength exercises are important to stay in good shape for your golf game. Especially in the off-season, the best way to get better in golf is improving core strength, flexibility, and balance.
---
MENTAL GAME IS THE KEY
Reading golf books and watching golf videos can be helpful for your game, but there are more options to improve. We all know golf is a mental game where you need to switch on and off your focus for hours. Meditation and breathing exercises can help you to learn how to handle stressful situations at the golf course. Breathing is the key to getting back to the present moment and controlling your focus as well. If you forget about the past mistakes and do not think about the future shots or scores is the key to playing with a free mind.
---
MORE WAYS TO IMPROVE YOUR GOLF GAME AT HOME
Looking for more ways to improve your golf game at home? Check out our Youtube channel for all kinds of ways to improve:
Click here to view our Pure 2Improve Golf videos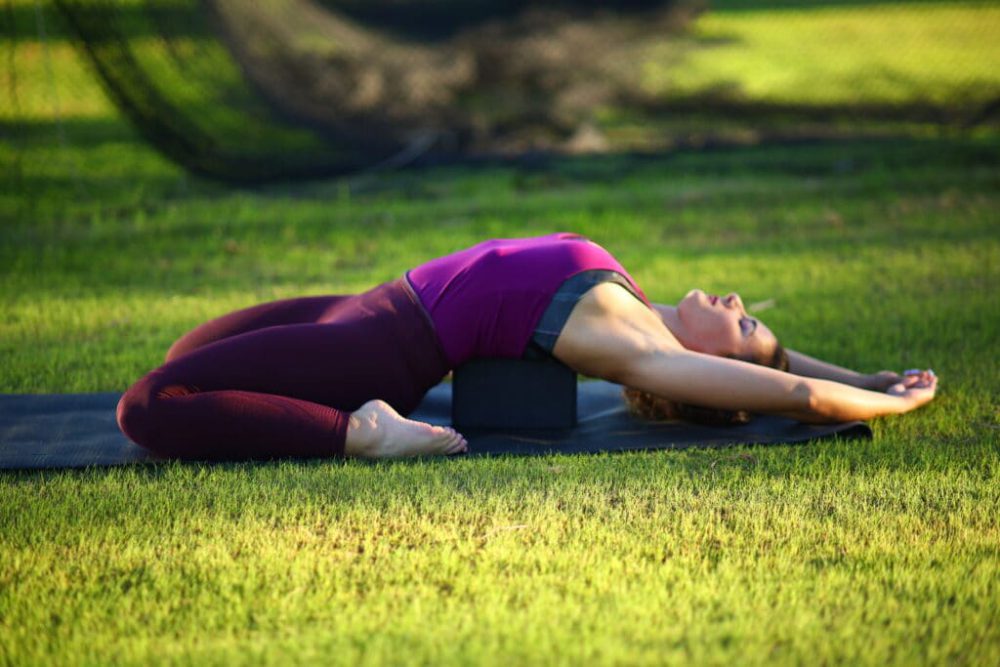 Nowadays not just professional athletes but amateur golfers are starting to realise the benefit of yoga. It is one of the most effective ways to improve your physical performance on and off the golf course. Yoga for golfers is also the key to playing golf longer and pain-free. It helps to increase flexibility, better balance, core strength, and more concentration which is beneficial for the mental game. So why not start yoga to improve your golf game today!
If you get easily tired after a round of golf or feel pain in your lower back or shoulders it is a sign, you should start yoga. Yoga for golfer poses specifically adapted to improve your golf performance. Regardless of age or physical state, you can start to practice yoga and soon you will feel the benefits.
---
BETTER BALANCE FOR A CONSISTENT SWING
Maintaining balance during the swing is essential for a consistent and effective golf swing. Ageing can affect balance, so it is important to start yoga and prevent losing balance during the golf swing. Working on your balance also requires more focus and concentration than other exercises. For more advanced levels, the balance board can give you an extra challenge.
---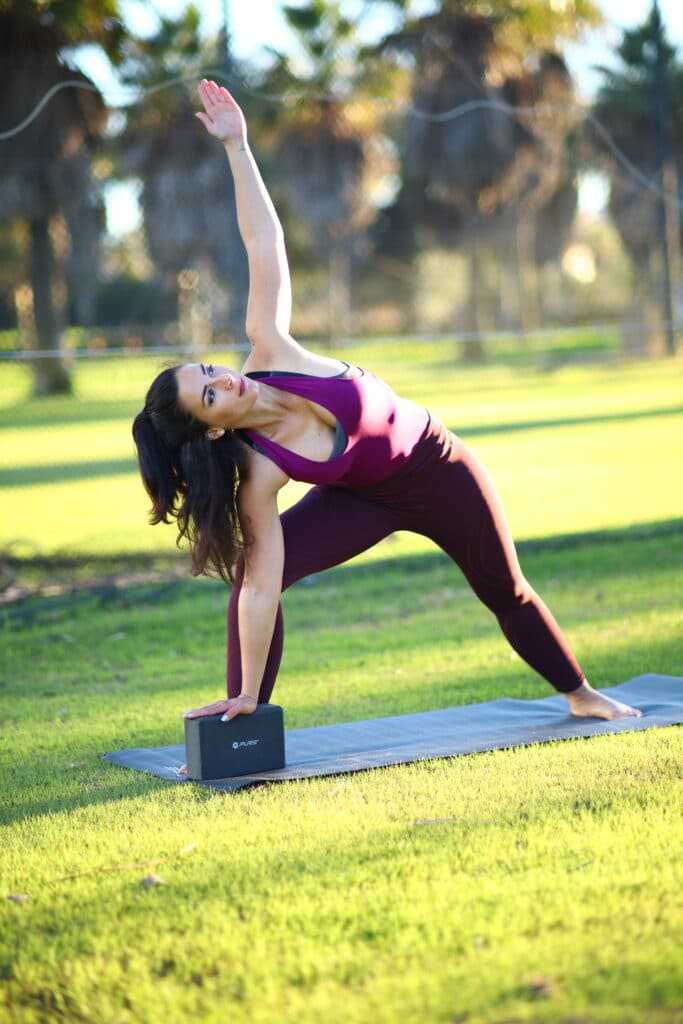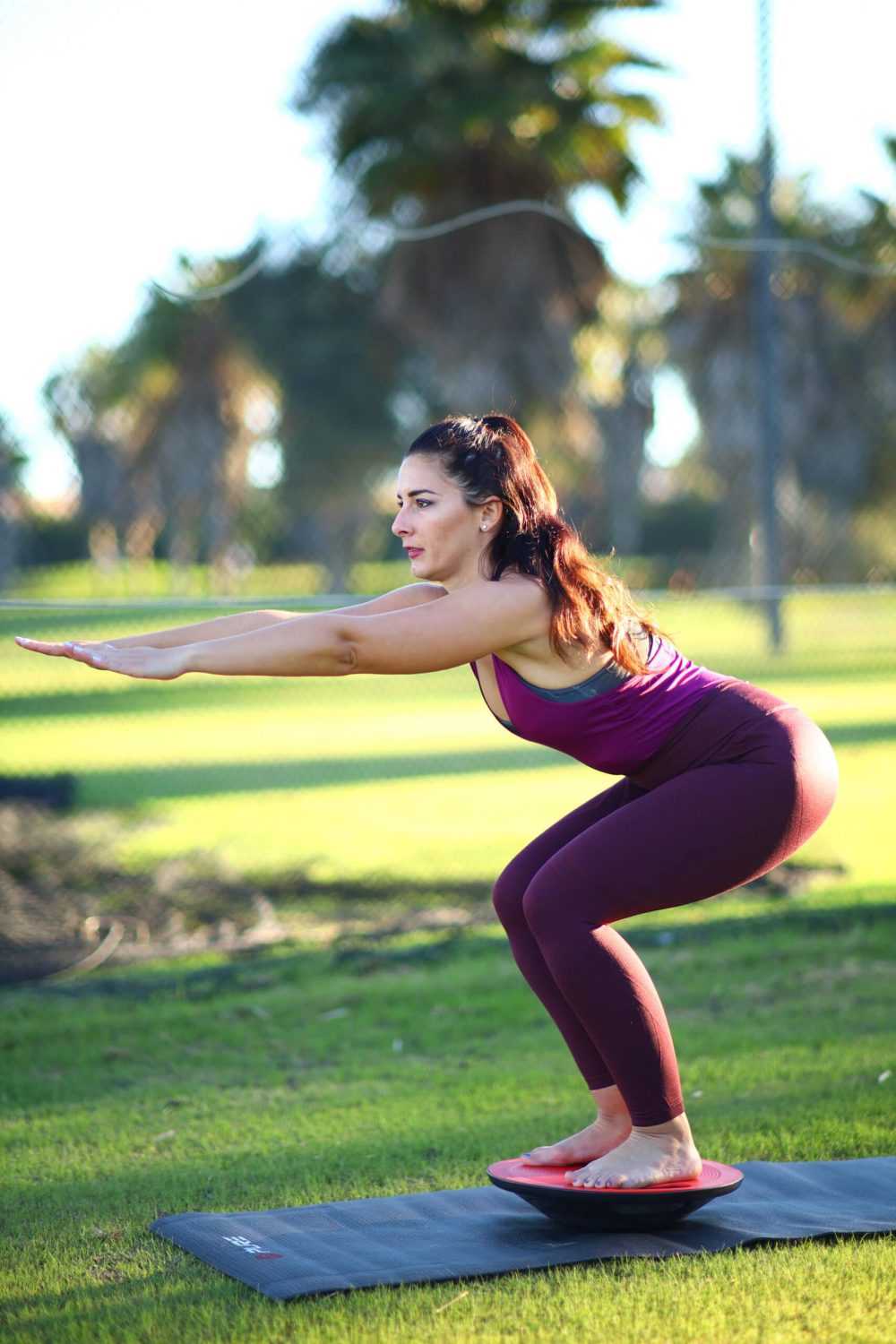 ---
MORE FLEXIBILITY FOR BETTER SWING
Improving your flexibility allows for increased range of motion at your joints and better mobility too. The golf swing is not a natural movement, so you need to be flexible enough for playing longer and lower the risks of injuries.
---
CORE STRENGTHS FOR BETTER SCORE
Better distance and more powerful swing are every golfer's goals. A strong core will help you with accuracy and protect your spine. In order to create and translate power golfers need to train glute strength, hip stability, and anterior core strength. The following exercises are great for strengthening your core.
---
---
REDUCE RISKS OF INJURIES
Golfers are prone to developing back pain and shoulder injuries. Every second golfer experiences pain after or during a round of golf. A dynamic warm-up is just one side of preventing injuries. Practicing yoga every day can help you to play golf pain-free.
A yoga block can support your back with each pose and help you hold each position longer.
---
MORE CONTROL OF BREATHING, FOCUS BETTER
During a round of golf, you need to switch on and off your focus to play effectively. Learning different breathing technics throw yoga, helps you to control concentration. Being able to get back to the present moment and relax after a bad shot is the key to a successful golf game.
Using a meditation pillow is beneficial for staying in the zone for longer and more comfortable too. It can also help you with your posture.
---